City of Faith 3rd Year Anniversary Banquet
Saturday, November 03, 2018 from 4:30 PM to 8:30 PM
Event Information
Please join us as we celebrate our 3rd year of existence. Our theme for the evening is "We've come this far by faith". This celebration will be a red-carpet gala, the evening will be spirit filled and full of entertainment.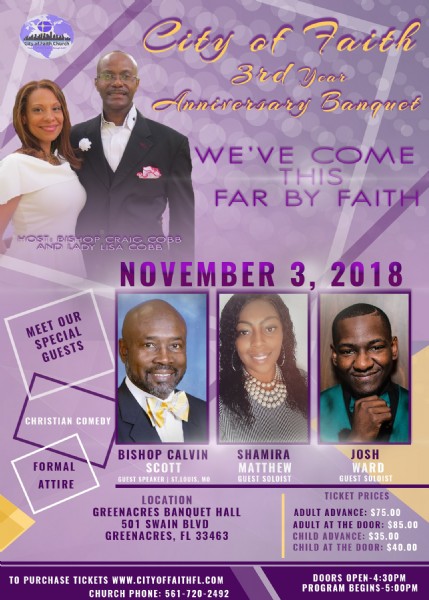 T

o purchase your tickets in cash, please call the office to set up an appointment.
Should you prefer to pay by check, please make your check payable to:
City of Faith and include the names and number of people who will attend, specify if children will attend and select one of three menu options (chicken, salmon or vegetarian) per person as well.
Checks should be sent to:
West Palm Beach, FL 33409
Event Location
Greenacres Banquet Hall • 501 Swain Blvd • West Palm Beach, FL 33463 • US
Contact Information
Contact: Marjorie Cherubin
Phone: 561-720-2492
E-mail: